Tune in to Jazz Euphorium on August 24th 2011. Lawrence Joseph will be hosting the programme
live from the Sala Rossa where the Murray Street Band will be blowing the roof off in celebrations
of the ensemble's 25th anniversary.
Founded and guided by drummer/artist extraordinaire John Heward,
the Murray Sreet Band celebrates improvisation in its most free and intuitive forms. Over the years
the MSB has served as both a training ground for some of Montreal's most accomplished improvisers,
and a setting for established musicians to explore their more experimental impulses. Members of the
MSB have come from backgrounds in puck, rock, jazz, world music, new music and everything betwixt
and between, unified only by a willingness to stretch their music horizons collectively and sympathetically.
Over the years the MSB has grown from a midsized ensemble to its present strength of over ten members,
making it one of the largest free improvising ensembles around.

LISTEN to the program, the first hour features recorded music by John Heward
and the second hour is live from the Sala Rossa

Radio CKUT's totally bilingual Summer Radio Camp is now in it's third year and unveiling 2 new and exciting options for campers.
With CKUT Radio Camp, you will get the chance to try on, try in, and try out the world of radio! In collaboration with CKUT*, McGill University's community radio station, we have designed a one week intensive program to introduce you to this fascinating medium of communication!
How does radio work? And a sound studio? How is the musical programming chosen? And the interviews with celebrities? Answers to all these questions and more, and intense activities are all programmed into this great camp! To be sure the experience is interesting for everyone, 10-13 year old and 14-17 year old will have their own groups and the camps will be held in alternating sessions. Also, the Radio Camp gang (max of 10 registrations per session!) will finish their week by participating in a live CKUT broadcast!
Camp Radio CKUT, un camp bilingue, est maintenant dans sa troisième année! Le camp dévoile 2 nouvelles et excitantes options pour les passionnés du radio.
Avec le Camp Radio CKUT, vous aurez la chance de découvrir le monde de la radio! En collaboration avec CKUT, la station de l'Université McGill de radio communautaire, nous avons conçu un programme intensif d'une et deux semaines pour vous faire découvrir ce milieu fascinant de la communication!
Comment fonctionne la radio? Et un studio d'enregistrement? Comment choisit-on une programmation musicale ? Et les interviews avec les vedettes, comment les réalise-t-on? La réponse à toutes ces questions et beaucoup d'autres informations ainsi que des activités intenses sont au programme ! Afin d'offrir une expérience intéressante pour tous, les 10-13 ans et le 14-17 ans auront leur propres sessions qui seront offertes en alternance. De plus, la gang CRC (un max de 10 inscriptions par session !) terminera sa semaine en participant à une émission diffusée en directe sur les ondes de Radio CKUT 90,3 FM !
For archives of all the prisoner justice programming, go to CKUT's programming grid and listen to last week's En Profondeur and Off the Hour, or check out mediacoop.ca
With our friends at the Harvey Christ Radio Hour taking some time to cleanse their souls ESL will be broadcasting an extra show this month. join recently departed host neil as he broadcasts from his new home and explores his 3 week journey across canada in a 4-door VW Golf.
On tap we will hear captured sounds ranging from boat rides in toronto to the street performers of vancouver. neil will make the argument that the praries are not flat, throw in some fun facts about canada, sprinkle in a run in with the rcmp and speak of the tragedies of hitting a deer. travel partner jesara will dj canadian road trip songs and together they will read from their blog: potholesandroadkill.
So sit back and laugh at someone else's travels, it all goes down this tuesday from 11-midnight EST, 8pm if you are in vancouver.
h1>LONG TERM MEMORY RADIO: SEX WORKERS & THEIR RIGHTS PANEL - WED JULY 20, 17-18H
SATURDAY JULY 9TH TUNE IN TO AN EXTENDED VERSION OF WEST INDIAN RHYTHMS BEGINNING AT 2PM.
This April, don't miss the latest edition of the Montreal Sessions, hosted by artist-in-residence, Holos Travy (Arwen Fleming). She'll be DJ-ing and hosting a weekly two-hour radio program featuring live performance and improvisation, as well as her favourite selections of found sounds, experimental vocals and interspecies communication. Tune in for interviews and guest performances by local sound artists and musicians Moe Clark (with Brahja Waldman), Goose, Shaun Weadick and Laura Emelianoff.

Also be sure to check out Holos Travy's Montreal Sessions blog for extras, including free sounds and found films.... holostravy.wordpress.com!
Coverage includes issues affecting First Nations peoples, the cost of the war on drugs, water sovereignty, voter apathy and the crisis of political representation, the regulation of Canadian mining companies operating abroad, immigration and security watch lists, accessibility for those living with disabilities and more.
The News Collective seeks to create a space where these voices and issues can be aired, and where those who feel alienated and underrepresented by party politics can be empowered to make an informed decision on May the second.
The people are the power, even if politicians would have you believe otherwise.
-CKUT's Community News Collective invites 3 parties in to answer to all the issues that have been addressed in parts one and two!
The Avalanche is a monthly, one hour radio program produced by people living with intellectual and physical disAbilities that keeps a pulse on disAbility news and culture.
The Panel on the Rights of Persons with DisAbilities will bring together people to speak about disAbilities and human rights. The second half of the panel will be recorded and aired on CKUT 90.3FM on Wednesday, May 4th @ 5pm.
Where? 110 Sainte-Thérèse Street, Suite 505 (Metro Champs de Mars) DAWN-Canada (DisAbility Women's Network-Canada).
Free food and coffee, thanks to Concordia's People's Potato.
On Saturday, May 21st, between 10 am and 5 pm, check out the Autonomous Media and Technology Room at the 12th annual Anarchist Bookfair CEDA--2515 Delisle St.--(Metro Lionel-Groulx), room 125 (wheelchair accessible). For more info on the bookfair click
here.
This room will include hands-on workshops that are bilingual and all-ages. The Autonomous Media Room is dedicated to sharing the skills and knowledge of different mediums as deployed by anarchists-such as pirate radio, screen printing, secure communication, and more.
*If you can't make it down to the bookfair, be sure to tune in to
CKUT
between 2-4pm on Saturday (during Funky Revolutions) for a special live broadcast from the anarchist bookfair!*
*NB workshops presented in only one language will have whisper translation towards english and french.
SCHEDULE
BLOC 1 (10:00-11:30am)
"An Introduction to the theory of tech security" with Koumbit (FR). An introduction to basic concepts in computer security, demonstrating key issues and threats. The goal is to be able to make informed choices in computer security and to keep abreast of key threats and best practices. The target audience is people with minimal computer experience.
"How to build a sound system" with Montreal Sound Team (EN, FR). Besides the fact that setting up live sound is an amazing, fun and powerful skill to have, it's also important that more people in the activist community have this knowledge. For years, a small handful of people have been setting up sound for demos, rallies and fundraisers. But what happens when those people leave town or burn out? Let's spread the knowledge! Join Soundteam for a workshop on rad sound reinforcement.
Bloc 2 (11:45am-1:15pm)
Live Radio: Workshop by CKUT 90.3fm (EN/FR). This workshop will take place in the hall on the first floor. Part one will include training in live radio setup and production followed by the live radio show running from 2-4pm.
"Basic Tech Security: the why and how of secure communication, anonymization and data storage by Anarchist Tech Support," includes installing software on people's computers (EN). In the digital age, intelligence gathering is generalized and automatic. Whether or not you are a person of interest ot those in positions of power, your emails, instant messenger conversations, search terms, and browsing history are being permanently recorded by the likes of Google, Facebook, Bell, and other. Information held by profit-driven corportations can be accessed by agents fo the state at almost any time, eithere through legal action or (more often) simply by asking. In the context of struggle, it is imperative that we control our information because it can quickly be used against us. At the same time, we must not give up one of our best weapons: the ability to communicate quickly and effectively through electronic means. This workshop aims to help secure communications without giving up efficacy, make our communitites and our lives more impervious to data mining and surveillance, and make our struggles more effective.
FM Transmitter Building Workshop-with Radios Populares (EN, FR, SP). Pull back the veil on radio transmission and mass communication by building your own FM radio transmitter. We will pull out our soldering irons and assemble all the parts necessary to start up a live broadcast.
Bloc 3 (1:30pm-3:00pm)
Screenprinting for the Revolution-presented by Sidetracks and the Ste. Emilie Skillshare (EN, FR) Come to this screenprinting crash course and learn how you can use screenprinting as a tool for revolution. We'll learn about screens, emulsion, image preparation, paper and fabric printing, basic image registration and all the rad projects you and your affinity group can do.
Bloc 4 (3:15-5:00pm)
"Radio and Resistance: Latin American Solidarity Model" featuring Radio Populares (based in Chicago, US) (EN) Throughout Latin America, Radios Populares works in solidarity with communitites struggling for social justice to amplify voices and affect social change. We will discuss the improtance of having communities determine development according to their needs and priorities, as will as using grassroots media outside mainstream outlets to inform and empower communities.
A co-presentation of: CKUT Radio, Anarchist Tech Support, Montreal Sound Team
CKUT 90.3fm presents BLUE SUNSHINE BENEFIT SHOW, MON APRIL 25 AT SALA ROSSA & ON 90.3FM
Doors at 7PM, bands at 8PM
featuring
PORN PERSONS
CHEVALIERS AVANT GARDE (ex-postcards)
SPASTIC JOY
HAND CREAM (members of Pink Noise and Drunk Dial)
TANG SOLEIL (ex-plummage)
7TH ORDER OF CHAOS (Roy Vucino of Red Mass, CPC Gangbangs, ect. ad infinitum)
6 bands for $7
CKUT WILL BE BROADCASTING LIVE FROM SALA ROSA! FROM 9PM-1AM!
Come down and show your support for independent radio, avant garde film, and DIYing in the city
Help keep Montreal's psychotronic cinema/Miskatonic Institute of Horror Studies/art house/only cereal buffet in the city alive
Because we need places like this
Because places like this are the whole point of living in a city
Montreal is shit without Blue Sunshine
Don't know about Blue Sunshine? Check out what you're missing
BRAHJA WALDMAN ON JAZZ EUPHORIUM
This week's Jazz Euphorium (April 20 8-10 pm) will feature the Brahja Waldman Quartet playing live in the studio. The band will stick around for the two full hours playing both their own music (radio debut of their just released CD) and other stuff they like. Tune in!
CKUT CD SALE & HANGOUT AT JAMES SQUARE ON MCGILL CAMPUS: WED, APRIL 6 10:30 - 3:30
CKUT will be holding our annual spring CD sale at James Square on the McGill Campus this Wednesday, April 6th. The square can be found just past the Milton Gates and below the James Admin building on the McGill campus.
Midnight Kitchen will be there serving up a free/by donatino vegan lunch.
Drop by, say hi, hang out.
BRIAN -VS- BRIAN ON THE B SIDES
Brian Eno - Cultural Guru, Musical Alchemist, Non-Musician.
Tune into the
B-Sides
on April 4th 4-7am Listen to the
ARCHIVE
Take the
Survey
- who do you like better Brian Eno or Brian Ferry?
It's not with ease that anyone foolhardy enough to tackle a *Brain(*I'll leave this typo
in tact. Some would argue that he is a musical genius!) Eno bio conjures up a description
of his expansive career…And, you'll see no such bravery here.
His most renown role as a rock star, albeit brief, was the flamboyant sound technician in the
Bryan Ferry lead, Roxy Music. Since his departure in 1973, Eno's had his hand in just about
everything. Possessing, a voracious appetite for music, Eno' s produced everything from,
no wave, free jazz, to pure unadulterated pop. One of his longest standing projects early in
his career on the Obscure label stemmed from Eno's relationship to contemporary experimental
musicians such as Michael Nyman, Gavin Bryars and Cornelius Cardew as well as
the influences of Steve Reich and his experiments with phase shifting.
MONTREAL SESSIONS MARCH: NIGHTWOOD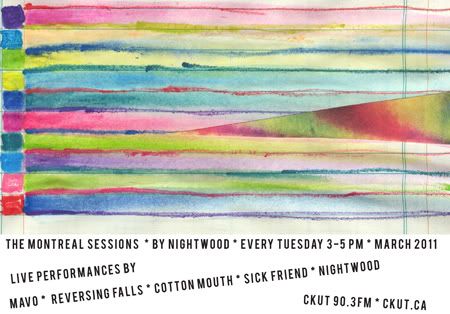 This March,
Nightwood
is the artist-in-residence for the CKUT 90.3FM's Montreal Sessions
radio program. Each Tuesday from 3-5pm they'll be DJing, as well as interviewing and hosting
rad bands
Cotton Mouth
,
Reversing Falls
,
Sick Friend
and
Mavo
. Expect live performances from
each band (and by Nightwood!) as well as lots of talk about sick tones, stellar riffs and
sweet beats.
March will be a righteous radiophonic happening and you won't wanna miss any of it! If you're
in Montreal, be sure tune in to CKUT 90.3FM every Tuesday between 3-5pm. If you miss the
show or live outside of Montreal, listen on-line or download the archived shows by visiting
here
Watch the video for the
March series
.
For more info or to nab a seat in-studio to watch one of the bands,
e-mail us
atnightwoodband@gmail.com
.
LIVE CREATIVE MUSIC ON THE KITCHEN BANG BANG LAW
Tune into the
Kitchen Bang Bang Law
Tuesday March 29th from noon to 2pm
for live music from
Le Cagibi
, or better yet - make your way over to 5490
Boulevard Saint-LAurent and come join in the festivities as
Mardi Spaghetti
throws an all day all night third anniversary bash featuring 25 artists creating
music in the realms of free jazz and experimental sounds.
IF YOU GOT EARS LIVE IN STUDIO
Tune Into If You Got Ears Wednesday Mercredi 23 Mars/ch 12h00-14h00
noon-to-two for a live in studio performance. Featuring Alexandre St-Onge,,
Emilie Mouchous [Gmackrr], Simon Brown, James Schidlowsky
a barrage of electronic acoustic sounds - relay race style.

"Les 11 épuisements"... 4 players = 11 short improv sets = 6 duos, 4 trios + 1 quartet.
Listen to the show,
NATIVE SOLIDARITY NEWS SPECIAL BUDGET EDITION FEATURING INTERVIEWS WITH THE NATION MAGAZINE, LIBERAL LEADER MICHAEL IGNATIEFF AND NDP LEADER JACK LAYTON : TUESDAY MARCH 22, 6PM
A special budget show for this week's Native Solidarity News - Tuesday March 22nd.
Guests include Amy German and Will Nichols from The Nation Magazine as well as interviews with Liberal Leader Micheal Ignatieff and NDP Leader Jack Layton.
Check it out, Tuesday March 22nd starting at 6pm on 90.3fm or at www.ckut.ca/listen
IDEA OF NORTH REVISITED: WED MARCH 23, 11AM
Wednesday March 23rd 11AM: Tune into Radia to hear The Idea of North Revisited. Cathy Inouye of the CKUT radia collective splice and diced Glen Gould's audio piece from the 1960s The Idea of North along with found footage, ambient sounds, news broadcasts, telephone messages, and interviews with people living in Nunavik, Nunavut, and NWT. You'll hear beat-boxing, cf18 fighter jets, music by DJ Mad Eskimo, Mosha Folger, Inuinnaqtun and Inuttitut and a host of other Inuit languages, soundscapes, Glen Gould rapping the word 'country' in a tiny robot voice and some gratuitous tuba playing.
SUIVRE LES ÉLECTIONS HAITTIENNES: DIMANCHE LE 20 MARS 13H À 19H00 / HAITIAN ELECTIONS COVERAGE: SUNDAY MARCH 20TH 1-7PM
Soyez à l'écoute ou connectez vous à CKUT 90.3FM dimanche 20 mars de 13h à 19h pour suivre les élections haitiennes, diffusées en direct de Haiti par l'équipe de Samedi Midi Inter, et présenté par Raymond Laurent.
Tune in, or log on to CKUT 90.3 fm Sunday March 20th from 1pm to 7pm for coverage of the Haitian Elections brought to you direct from Haiti from the Samedi Midi Inter team hosted by Raymond Laurent.
THURSDAYS (A)LIVE! FEATURING TRADE SECRETS & VALLEYMAKERS: THURSDAY MARCH 24, 7:30PM AT GERTS BAR
This month, our wonderful concert series ((showcasing McGill's best emerging musicians)) is presenting to You Trade Secrets and Valleymakers. Also featuring CKUT's DJ Sports and DJ Had Me at Hello.
The show is FREE but there is a manditory $2 coat check.
It's happening at Gerts Bar, 3480 McTavish (basement of Shatner building on McGill campus)
This will be the last Thursdays (A)Live show of the year, but we will be back in September! For more info on Thursdays (A)Live and how to submit your band, visit www.ckut.ca/thursdaysalive and email mcgill@ckut.ca
WORLD SKIP THE BEAT LIVE FROM MCGILL'S EDUCATION BUILDING: MONDAY MARCH 21, NOON - 2PM
CKUT's "World Skip the Beat" will be broadcasting live from the Lobby of McGill's Education Building (3700 McTavish) this coming Monday, March 21 from noon - 2pm.
Join us for great tunes from around the world and live interviews. Come meet and talk to CKUT programmers. Learn more about your campus-based community radio station. Bop your head over lunch.
Hope you'll join us!
What: CKUT's World Skip the beat broadcasting live
Where: Lobby of the Education Building, 3700 McTavish
When: Monday, March 21 from noon - 2pm
Why: to have a little fun
World Skip the Beat is an International "roots" music show, expanding the notion of Global Music. Scintillating fusions and traditional classics are featured every Monday from noon to 2 pm EST/EDT on 90.3fm or ckut.ca/listen and archived for 3 months at ckut.ca
World Skip the Beat is a collective music programme open to new contributors.
The Winks AND Plants and Animals - UNDERGROUND SOUNDS
Underground Sounds
was all about bringing the finest Canadian independent music to the airwaves every Monday
from 8-10pm. Tuned in
Monday March 7th
for a helluva show featuring some major Montreal talent out the wazooo.
At 8:30pm In Their Own Words: Montreal Sessions presented an artist profile on
The Winks
.
These psych-folk-rockers expertly combine cello, mandolin, vocals and percussion in their most recent album
Twilights.
Then at 9:00pm was an interview with
Plants and Animals
drummer-vocalist Woody Woodley.
The band is signed to Secret City Records and will be performing in Montreal on Friday March 11th Le National.
RADIO BALLET
You are invited to join a Radio Ballet!
Join CKUT's 'Radio is Dead?' collective for this awesome radio performance experience!
At precisely 14:10 pm we will all converge at Roddick Gates (McGill college street and Sherbrooke st. W).
We will tune our radios to 90.3fm and follow the steps being broadcast. Our dance will be a mix of movement,
observations,interaction, dance and speech. Somewhere between a guided meditation and the monster mash.
How it works:
1. Find a portable radio. Walkman, shower radio, boom box, mp3 player.
2. Bring your radio to Roddick Gates on Monday March 7th at exactly 14:00
3. At 14:10 tune into 90.3 FM
4. Listen for instructions and enjoy the ballet
**Make sure to B.Y.O.Radio (we will have some radios on hand for public transmission)**
Tune in to Shtetl on the Shortwave this Friday, March 4th at 11AM and meet comedian
Robby Hoffman as well as the very charismatic (but not in a bad way) Rabbi David Ingber.
WINTER 2011: THE HOMELESSNESS MARATHON /
HIVER 2011: MARATHON DES SANS-ABRI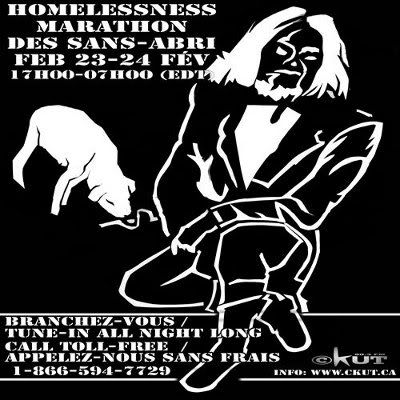 From sunset on Wednesday February 23rd until sunrise...diffusé mercredi le 23 février du crépuscule á l'aube
click here for marathon website


REAL TALK - BLACK HISTORY MONTH EDITION TUESDAY FEBRUARY 22ND LIVE BROADCAST FROM 7 - 9PM
Hosts of Ill Groove Garden, Masters at Work and Soul Perspective get together to animate a discussion on issues and events affecting the black community.
Join us at Club Nuvo 1401 Mackay - 6 - 10pm or tune in Tuesday 7 - 9pm.
More info check us on facebook.
BLACK HISTORY MONTH ON ROOTS ROCK REBEL!
Tune in to
Roots Rock Rebel
Every Wednesday night in February from 10-12pm February is Black History Month, and as we do each and every year on Roots Rock Rebel, we bring you programming, music, and interviews which celebrate the contributions that the tiny island of Jamaica has made in music around the world.
Wednesday, February 2nd - A conversation with Fritz Williams
Listen!
The father of celebrated Montreal-based DJ and music historian
Andy Williams
, Fritz was on one of the first ships (The Santa Maria) of Jamaican migrants which sailed to England in 1957. In our extended interview, he spoke about the socio-economic conditions that early Jamaican migrants to the UK were forced to live under (baaaad baaad housing, lack of jobs), the club scene in the Midlands, fashion, and of course, reggae music!
Wednesday, February 9th - Nantali Indongo aka. I am Black Girl (Nomadic Massive)
Not only an artist with the celebrated hip-hop ensemble
Nomadic Massive
and a regular contributor to Community Contact, Quebec's major English-language black community newspaper, Nantali is an alternative educator using hip-hop culture as a contemporary educational tool. While institutional education tends to stick to set curricula and rigid social codes, Indongo, co-founder with Maryse Legagneur, of the "Hip Hop No Pop"program has been invited to tour high-schools and CEGEP campuses and teach workshops on more relevant topics to youth today, including the history of hip-hop, sexuality and language.
Nantali will join us live in the CKUT studios to discuss West Indian diasporas in Montreal, and using music as a tool for education and social change.
Tune in to
Roots Rock Rebel
every Wednesday from 10pm-12am EST this February to enjoy this programming and much more, plus plenty of great old school vibes from Jamaica! In the Montreal area, tune in at 90.3FM, or stream it live at www.ckut.ca/listen.php everywhere else!
THE MONTREAL SESSIONS FEBRUARY
Broadcasting live from the death pit...every Tuesday afternoon 3-5pm in February....
the lone hobo of Montreal based Hobocult tapes presents distorted axe shredding mind
scorchers & floating womb portal time travellers.
Listen to Tuesday Feb 1st edition Featuring Element Kuuda

Listen to Tuesday Feb 8th edition Featuring Goa Monstre


Tune into Venus your favorite collective show that all about women in music from 12noon to 2pm To hear an interview with Sara Marcus, author of Girls to The Front: The True Story of the Riot Grrrl Revolution, conducted by Sarah Mangle, who hosts These Things That People Make on CFRU 93.3 FM out of Guelph, Ontario. Tune in for discussions about media and feminism, co-opting of punk rock, and lots of Bikini Kill, Bratmobile and Heavens to Betsy!


VOICES BEYOND WALLS: RADIO WORKS!
INTERVIEW WITH DR. JULIE NORMAN ON YOUTH MEDIA WORKSHOPS
Tune into CKUT 90.3 FM this
Monday, February 14 at 8:40 am
to hear an interview with Dr. Julie Norman about her "Voices Beyond Walls" photo and video workshops with youth in the West Bank.
Écoutez CKUT 90.3 FM ce
lundi le 14 fevrier à partir de 8h40
pour entendre une entrevue avec Dr. Julie Norman au sujet de ses ateliers de photo et videos,"Voices Beyond Walls," avec des jeunes en Cisjordanie.
Julie M. Norman is an assistant professor in the Department of Political Science at Concordia, author of The Second Palestinian Intifada: Civil Resistance, and co-editor of the forthcoming Nonviolence in the Second Intifada: Activism and Advocacy. She is also giving a talk on "Creative Activism: Unarmed Resistance in Palestine" this Wednesday, February 16 at 12 pm at McGill University 3715 Peel, Room 200.
Julie M. Norman est une profeseure adjointe au Departement de Science politique a Concordia ainsi qu'auteure du livre "The Second Palestinian Intifada: Civil Resistance," et co-rédactrice du prochain "Nonviolence in the Second Intifada: Activism and Advocacy." Elle donne aussi une conférence appelé "Creative Activism: Unarmed Resistance in Palestine," ce mercredi le 16 fevrier à midi à l'Universite McGill, 3715 rue Peel, Salle 200.
RADIO IS DEAD? PROTEST HOUR: KEEP CKLN ON THE AIRWAVES, MON, JAN 31, 2-3PM & MON, FEB 7, 2-3PM
Today, the program's name, Radio Is Dead?, is sadly and aptly appropriate, as we dedicate our broadcast to our sister station in Toronto - CKLN 88.1 FM. We stand in solidarity with CKLN in the face of the Canadian Radio, Television and Telecommunications Commission's decision to revoke Toronto's first campus radio station's license. This Friday, the station was given two weeks before being forced to shut down operations. In 2007 the CRTC renewed CKLN's license for seven years.
Listen to the Monday, January 31st Broadcast
COLIN STETSON ON NEW SHIT&A SILENT ACTION FILM, MON FEB 7
Tune in to CKUT this Monday February 7 from 3-5pm for New Shit or 11pm-1am for A Silent Action Film when we will be airing a short feature and fresh interview with Colin Stetson.
The wildly talented and utterly unorthadox horn player and composer dropped by CKUT over the weekend to talk with us about his forthcoming album New History Warfare Vol. 2: Judges (out Feb 22, but already receiving heavy spins on CKUT's airwaves), his approach to playing and writing music, high-school saxophone teachers...
We will also feature some tracks from the yet-to-be-released album.
Stetson will be playing live in town this Thursday Feb 10 at the Sala Rossa with Tim Hecker.
New History Warfare Vol. 2: Judges comes out on Constellation Records on February 22.
Listen to the Interview with Colin Stetson on A Silent Action Film (It will start about 5 minutes in)
ART'S BIRTHDAY BROADCAST AND OPEN STUDIO MONDAY JAN 17 NOON - 5
Drop by CKUT on Monday, January 17 between noon and 5pm to enjoy some art-cake, take a tour of the station, and check out the live sound performances taking place in our on-air studio in honor of the birth of art.
We are located at 3647 University in an old house between Prince Arthur and Pins, just next to the McGill Campus. That's up the street from the McGill Metro, down the street from the 144 bus or over from the 80 and 127 busses.
From noon - 2:30pm
We'll be live-mixing streams from other Art's birthday broadcasts across the continent as well as playing some audio pieces our volunteer producers have created for the occasion.
From 2:30 - 5pm
2:30-3:30 : Night Train's Jon Claude
3:30-4:30 : Emilie Mouchous & James Schidlowski
4:30 - 5pm : Chimurenga Electroacoustic Ensemble (Cabral Jacobs, Leon Lo, Nicolas Dion, Anne-Francoise Jacques, John Brennan, Nimalan Yoganathan)
If you missed the broadcast, check out the podcasts below:
Noon - 2pm
2 - 3pm
3 - 5 pm

JOIN RADIO CKUT FOR THE ONLY ART'S BIRTHDAY CELEBRATION IN TOWN - SAT. JAN 15, 8PM AT L'ENVERS
CKUT recently celebrated Art's Birthday with a whole lotta help from our friends!
Check out the programme below, and
see the photos
HERE
Thanks to everyone who contributed and to all of you who joined us.
"One million years ago, on January 17, someone dropped a dry sponge into a bucket of water and lo, ART was born!" - Robert Filliou, 1963
When: January 15th, starts at 8pm
Where: L'Envers and O'Supa at 185 Van Horne.
Cost: $7 - $12 sliding scale
Art's Birthday was originally proposed in 1964 by artist Robert Filiou as a celebration of Art. Arts organizations all over the world celebrate Art's Birthday with parties and performances. CKUT has produced special programming in celebration of Art's Birthday since 2007.
According to our calculations Art will be turning 1 000 047 this year, and once again CKUT will be ringing in the occasion. From the serious to the silly, the night will be a celebration of art.
Expect live musical performances and shenanigans, visual and sound art installations, a film room, an art cake contest, an art-of-kissing booth, a ringing-in of the birthday at midnight, a costume contest, and a DJ'd dance party to bring the night to a close!
There will be:
Live Music By:
-The Murray Street Band (John Heward, Michel Bonneau, Lori Freedman, Charity Chan, Jonah Fortune, Nicolas Caloia, Sam Shalabi, Ellwood Epps, Eric Lewis)
-The Bombadils
-Julie D and Simon of L'Orchestre d'Hommes-Orchestres
-Stefan Christoff playing solo and in duet with Peter Burton on contrabass
-CKUT's Circuit Choir
DJ Danceparty By:
Radio CKUT's Duck Truck Crew
DJ Dirtyboots (punk/soul/new wave)
DJ Julie D ( Folie de Drum n Bass)
DJ Backdoor (Dubstep/Electro/Techno)
Otherpeoplesmusic (gabber breakcore/rap/jungle)
Films By:
Dayna McLeod presents Thong 5
Phase Four Productions presents Jordan & Bear
Comaduster presents Scrape, 3 previews
Mike Rollo
Amber Goodwyn
Michael Pedruski and Erin Weisgerber present The Adventures of Mouse
Britt Wray presents a series of experimental animations
Julie Cote & Jeremy Shant
Aaron Mazurek,
Amit Dey
Nicholas Schofield
Andrea Reid & Riley Starr as part of the All Together project
Sound Art by:
Audio Smut Collective
Jess Grosman & Andrea Jane Cornell
Alanna MacNevin
Nicholas Esterer
Nadege Allen & Phil Greene
Stephanie Saretsky
Chihiro Fujiward
Leanne Arnison
Art Installations by:
Katerina Pansera
Laure Nolte
Kevin Lo - LOKi Design presenting a poster series and workshop
Kevin Yuen-Kit Lo is a graphic designer and artist whose work explores ideas on social dialogue and poetics. He is the publisher/editor/designer of the award-winning zine Four Minutes to Midnight and runs LOKi design, a communications studio specialising in work for cultural and social causes.
Art Cakes by:
Ste-Emilie Skillshare
Galerie Valerie
Galerie Rye
Radio CKUT
The art cake contest is open to all! Bring an Art Cake to be judged shortly after 8pm.
Cakes will be judged based on taste, concept, and realization. There will be a prize for the best cake.
Dress up:
There will be a prize for the best costume.
CKUT's January 15th Art's Birthday Bash is a Fundraiser for Radio CKUT. All profits will go towards the station's annual operating budget.
Check out photos from last year's celebration
Facebook Event
Also, tune in to CKUT 90.3FM on Monday, January 17 between noon and 5pm to hear a special Art's Birthday Live Broadcast
VENUS RADIO LIVE BROADCAST FROM THE MIDNIGHT KITCHEN - THURS JAN 13, NOON - 2PM (Shatner building room 302 on McGill)
Live at Midnight Kitchen Serving Space, Shatner Building Room 302
********************************
Join us as Venus Radio spins all the best music by all the best women for all the best listeners.
Venus Radio is CKUT's Women's Collective Music Show airing every Thursday from noon-2pm on Radio CKUT (since 1996).
Music by women, grrrls, chicks, chicas, gals, ladies, wymyn, wimmin, lesbros, les filles, mujares, les femmes, dykes, sisters, sistas, and those from the Planet Claire.
Venus is a collective programme always open to new contributors.
Listen to previoius programmes
The Midnight Kitchen is a non-profit, volunteer and worker run food collective dedicated to providing affordable, healthy food to as many people as possible. Based out of McGill University in Montreal, QC we provide free/by donation vegan lunches 5 days a week, Monday through Friday, at 12:30 in the Shatner building on McGill campus, room 302.
Come grab some grub and nod your head to the tunes
Or tune in at 90.3 FM or www.ckut.ca/listen
THURSDAYS (A)LIVE! HAPPENING ON JANUARY 13TH -- THE SECOND THURSDAY OF THE MONTH, AT GERTS BAR
Featuring Man Legs, I-Languages, and Count us Among Your Many Friends
We'll be kicking 2011 off with an unusual event: Thursdays (A)Live! taking place on the second Thursday of the month. After January, we'll be returning to our usual third thursday schedule.
Come out on the lucky 13th of January to tickle your ears with the sounds of:
Man Legs
I-Languages
Count Us Among Your Many Friends
Plus CKUT's DJ Had Me at Hello
As always, the show is FREE and is taking place at Gerts Bar in the basement of the Shatner Building on the McGill Campus.
Doors and DJ are at 7:30pm
CONGRATULATIONS TO THE WINNERS OF THE FUNDING DRIVE GRAND PRIZE DRAW!
Congratulations to the 6 winners of Radio CKUT's Funding Drive Grand Prize Draw! The Grand Prize Draw is one of the ways we like to thank donors for their generous, and much-needed, monetary support to Radio CKUT.
Names were drawn on Thursday, December 16th.
Winners took home:
A $500 Gift Certificate for a business of Your Choice courtesy of JN Money Transfer
A Year of Beer courtesy of St-Ambroise
A Suoni Per Il Popolo Festival Pass - a month of live music in June 2011 - two chances to win
A Spa Package from Ovarium
A VIA Rail Pass for 4 Anywhere Between Montreal and Niagara Falls (Including Toronto)
Once again, thank-you to everyone who donated to Radio CKUT during the 2010 Funding Drive "Horn of Plenty."


HOLIDAY PROGRAMMING
December 24th from 9-11am, tune into a special edition of Prison Radio which will feature a talk on the history of the Canadian Prison system; a US documentary on Surviving Solitary Confinement (take note listeners, Quebec has a Supermax prison too!); A lengthy interview with prisoner Douglas Foreman speaking about his lack of proper medical care for his Hep C, with an a follow-up interview (en francais) with his former doctor, Dr. Jean Robert; Bradly Manning and his prison conditions; Prison News & News about Political Prisoners and POWs; hopefully updates on the Georgia prison strike and the 1200 prisoners in Greece that just ended a hunger strike and music of course.
Your Radio is Broken host Rhys Taylor will be filling in for Macondo 8-10pm on December. Kicking off Christmas Eve from the underground with freshest beats and breaks from the underground electronic dance music scene to make you shake into the holiday season.
Ca va brasser dans la cabane de CKUT de 22h a 8:30 avec Dolor Cormier et l'equipe de Quebec Acadie en musique qui celebre le Reveillion avec les auditeur en direct de studios de CKUT.
Christopher Heron and the Mind Soul and Spirit Crew will bring listeners a tasty helping of gospel for the soul on Christmas Morning form 8:30-10:30
Soca Session's Production Sounds will host Island Riddims from 2-4pm on Christmas day for the fourth year in a row. Featuring Caribbean music,live interviews with artists, phone ins from listeners and artists wishing their loved ones Merry Christmas. The phone lines will be open from 2pm – 3 :45pm
Friday Dec 31st 8pm to 4 am from the West Island studios - a special fireside edition of West Indian Rhythms touches down on all the islands of the Caribbean to ring in the new year with your host Howard Stretch Carr and Production Sounds.
FAFADI ON WORLD SKIP THE BEAT
Branchez-vous sur les ondes de CKUT 90.3 FM ce lundi, le 20 décembre entre midi et 14h! World Skip the Beat présentera une entrevue exclusive et en direct avec la vedette du reggae sénégalais FAFADI. Né en Casamance au sud du Sénégal, cet auteur-compositeur-interprète s'est inspiré de la musique de Touré Kunda et du reggae gambien et représente la nouvelle génération d'artistes de reggae africain, qui relèvent un style unique fusionnant la tradition et la modernité tout en confrontant les injustices sociales auxquelles le continent africain fait face. Il sera en studio avec notre animateur Parker Mah pour parler de son dernier album, "Dji-Yito (La Relève)", sorti sur Wulabaa Sound, son déménagement au Canada et son premier grand spectacle ici à Montréal, qui se tiendra au Club Lambi le 30 décembre.
Soyez à l'écoute!
****************************************************************
Tune in to World Skip the Beat on CKUT 90.3 FM between noon and 2pm this Monday, December 20th for an exclusive LIVE interview with Senegalese reggae star FAFADI. Hailing from Casamance in the southern region of Senegal, this composer and singer, inspired by the music of Touré Kunda and Gambian reggae, represents the new generation of african reggae artists with his unique, socially-conscious style blending tradition and modernity. He will be in studio with host Parker Mah to discuss his latest album "Dji-Yito (La relève)", out on Wulabaa Sound, his recent move to Montreal and his upcoming show at Club Lambi on the 30th of December.
Don't miss it!