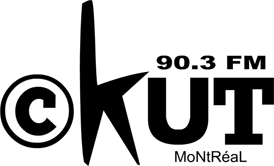 UPCOMING PROGRAMMING & EVENTS
SKIP TO RECENT PROGRAMMING
TUNE-INTO OFF THE HOUR: 'THE RED SQUARE REPORT'


Tune-into CKUT's Off the Hour, Mon-Fri, 5-6pm for regular audio updates on Quebec Student Strikes.

SHARE THE LOVE: Thank you Arbutus Records!


SHARE THE LOVE: A CKUT VIDEO SERIES

SHARE THE LOVE: Thank you Arbutus Records!



SHARE THE LOVE: Natalia Yanchak from The Dears on why CKUT (and campus-community radio in general) matters!



SHARE THE LOVE: Katie from BRAIDS, thanks Katie!



MONTREAL LIFE STORIES

*Starting this Thursday, March 8th*




Tune in Thursday March 8th from 6 to 7 pm for the Montreal Life Stories Rencontres series launch live from Oral History Museum of Montreal.

Listen to CKUT's coverage of the events taking place at various locations throughout the city of Montreal during the month of March 2012.

The Rencontres will include: an international academic conference, a press conference, exhibitions, a multimedia installation, round table discussions, various artistic displays and performances and workshops.

Visit the Montreal Life Stories website for more information.




YOUTH RADIO CAMP 2012 IS JUST AROUND THE CORNER

One and two week sessions beginning June 25th until August 17th, 2012.

Two age groups: 10-13 and 14-17. Spread the word!

Go to the Radio Camp website for more information.


CKUT Radio presents: The 10th ANNUAL HOMELESSNESS MARATHON

Tune in and participate!

//// February 22-23, 2012 \\\\

//// 5pm-7am \\\\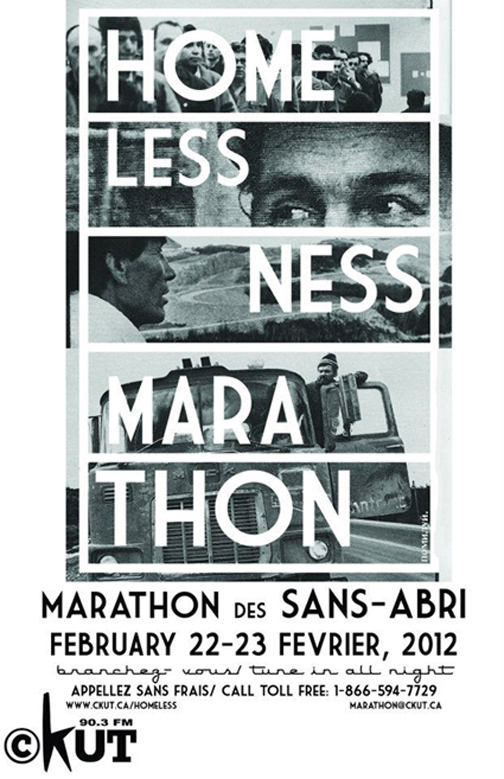 14 hours of live radio programming on justice, not charity

TUNE IN all night long on CKUT, 90.3 FM, or online at www.ckut.ca

CALL in to our toll-free number from anywhere in Canada to participate and speak your mind: 1-866-594-7729

FOLLOW us on Facebook and Twitter:

CKUT-Homelessness-Marathon-des-sans-abri on Facebook

Twitter @ckut_marathon

Or, come down to the Native Friendship Centre (2001 St-Laurent, corner of Ontario) to participate - free food and coffee all night long!

** What is the Homelessness Marathon?

Every year, the Homeless Marathon serves up 14 hours of people-powered radio, broadcasted on nearly 40 radio stations across Canada. With the goal of being a consciousness-raising event, the Marathon will provide an opportunity for homeless people and their allies to take to the airwaves, and allow a nationwide discussion on homelessness issues and possible solutions.

35 stations carrying the marathon from coast to coast to coast! To find the station nearest you broadcasting the marathon, visit:



Some highlights for this year include:

** Open mic hour from midnight-1am (call in with your questions, comments, and rants, or bring an instrument down to the centre and play a song) - 1-866-594-7729

** Other hourly topics and panels on gender and access to housing, police repression and the law, art in the streets, migration and housing, and more!

** Segments of the marathon also being hosted live from the streets of Halifax by CKDU radio, and the streets of Vancouver by CJSF radio!

For the complete schedule, and for more info, visit:

Get involved!

We need help putting up posters, getting the word out, and also on the airwaves. Get in touch with marathon@ckut.ca, or call 514-448-4041 x.6788




THURSDAYS ALIVE FEB.16 8PM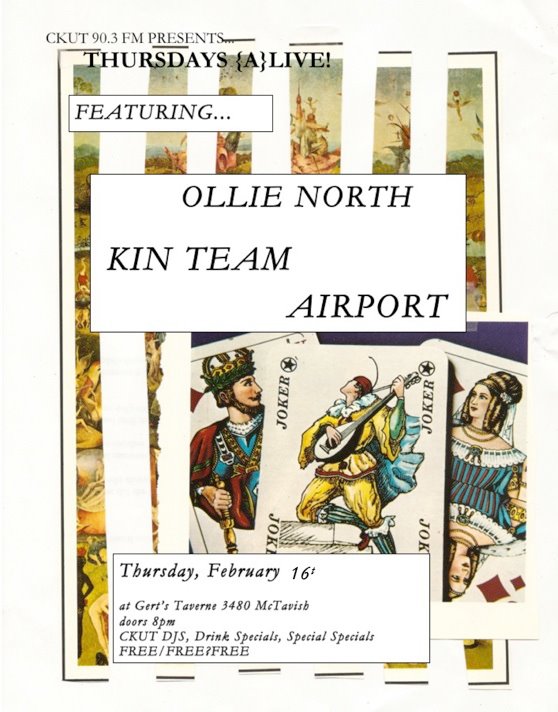 CKUT 90.3 FM presents...

A pre-reading week sendoff of the highest caliber;

A very special Thursdays Alive

FEATURING

The looped/electronic/guitar/laptop beat/drone creations OF:

OLLIE NORTH: Listen to Ollie North!

Finally out of the woodwork and working on a new EP of looped acoustic guitar worlds.

KIN TEAM: Listen to Kin Team!

Swirling Violin melodies and house shaking beats. Draw a tear. Dance too.

AIRPORT: Airport Montreal

"Making a space to cuddle from behind a mountain of electronics." Freshest of Noise from McGill.

FREE/GERTS BAR 3480 McTavish/8 DOORS/COMMUNITY MUSIC

Are You a McGill student or staff? Send your demos to mcgillevents@ckut.ca


More info: Thursdays Alive Feb 16th!


FEBRUARY 14TH, 17-19h: SPECIAL LIVE BROADCAST FROM MEMORIAL MARCH FOR MISSING AND MURDERED WOMEN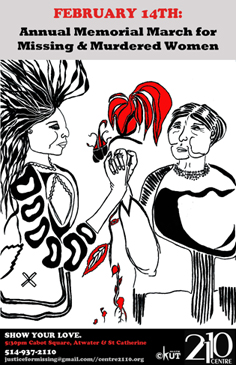 The CKUT News Collective and the Blue Print Radio Project invite you to tune in for Off the Hour and Native Solidarity News tomorrow for a special broadcast on the systemic violence facing Indigenous women in Canada.
Tune in for a special 2 hour broadcast from 5-7 PM on Tuesday, February 14th dedicated to sharing the realities faced by Indigenous women who have lost loved ones and highlighting the reslience and strength of initiatives to counter this gender based violence. Interviewees include Bridget Tolley and Sue Martin of Families of Sisters in Spirit, Michele Audette of Quebec Native Women and Gladys Radek of Walk 4 Justice.
At 5:30 PM we will broadcast LIVE from the 3rd Annual March for Missing and Murdered Women at Cabot Square. Tune Justice for the voices of Missing Justice, Girls Action as well as live performances and updates from march-ers.
Listen online www.ckut.ca, on the dial at 90.3 fm or JOIN US at Cabot Square (St Catherine and Atwater, Montreal) at 5:30 PM

More info: missingjustice.ca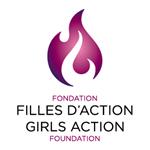 STATEMENT FROM JAMES ADMIN OCCUPIERS
AIRED ON VENUS ON CKUT 90.3FM FEB 9th @ 12:54PM

Participants in the James Administration 6th floor occupation read a statement over the air on CKUT 90.3FM's Venus, feminist music collective, at 12:54pm, Thursday, February 9th. The statement further clarifies their position and confirmss that the students are acting independently, in solidarity with CKUT and QPIRG.

Listen here: http://archives.ckut.ca/64/20120209.12.54-13.00.mp3


CKUT'S RESPONSE TO PROVOST ANTHONY MASI'S RECENT STATEMENT

Montreal, 9 February 2012 – On February 8, Provost Anthony Masi issued a statement to all McGill students, staff and faculty members explaining the Administration's rationale for refusing to recognize the results of recent referenda concerning independent student organizations Radio CKUT and the Quebec Public Interest Research Group (QPIRG). While the Provost's message clearly represents the Administration's position on this matter, its characterization of the issues involved in this dispute is not objective. The Board of Directors of Radio CKUT offers the following clarifications, in the hopes of more fully informing the campus community on this issue.

Read the full response here


FOR IMMEDIATE RELEASE




Montreal, 8 February 2012 –

Radio CKUT 90.3 FM, a campus-community radio station that has broadcast from the McGill campus since the 1960s, is grateful for the support McGill students have shown for the continued viability of independent media on campus, including those students currently engaged in protest action at the James Administration Building, and their supporters.

Read the full press release here


FEBRUARY MONTREAL SESSIONS: SPECTRAL MIGRATION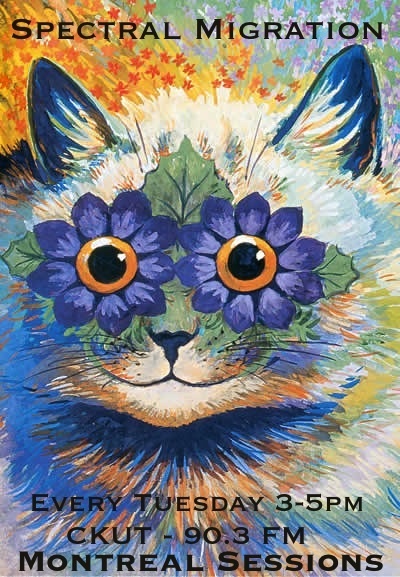 Tune into The Montreal Sessions this month to check out the psych pop leanings of Jordan Robson Cramer. Spectral Migration is the name of his radio residency which will feature lots of local music and live bands in studio!

The Montreal Sessions is a monthly artist-in-residency program. Each month a new local artist/DJ/musician/band/label/festival/promoter programs a month's worth of live, weekly radio shows, which air every Tuesday from 3-5pm .

Check out the show's audio archives and our previous blog entries about the sessions!


PRESS RELEASE

January 14th, 2012

OVER FIVE THOUSAND STUDENTS VOTE IN THE FALL ELECTIONS, MCGILL ADMINISTRATION IGNORES THE STUDENT VOTE


The McGill Administration has announced that it will refuse to observe the results of a recent student referendum confirming McGill students' support for CKUT Radio 90.3 FM, as well as for the Quebec Public Interest Research Group (QPIRG) at McGill.

In a referendum conducted by the Student Society of McGill University (SSMU), students voted 72.3% in favour of continuing to support CKUT and 65.6% in favour of continuing to support QPIRG McGill. Quorum was exceptionally high for a fall referendum with a 24.7% voter turnout, equivalent to 5245 undergraduate students.

In a joint letter to CKUT and QPIRG McGill, the McGill Administration stated that the results were "unclear and as such, will not provide McGill's Board of Governors the assurance necessary to approve renewal of your agreement with the University".

"The question was crystal clear," says Carol Fraser, the SSMU representative on CKUT's Board. "It asked students directly if they agreed to pay a fee that could not be opted-out of online, and they said yes. McGill students knew exactly what they were voting for." CKUT's question was vetted by the SSMU Council and met the standards of Elections McGill. QPIRG McGill obtained over 500 signatures from 7 faculties following the regulations for a student initiated question, and both questions were endorsed by the SSMU and the AUS.

The system of online opt-outs was imposed unilaterally by the McGill Administration in 2007, ignoring objections from campus groups regarding this violation of student autonomy. In 2007, a SSMU General Assembly motion and subsequent student referendum called upon the Administration to put an end to the online opt-out system. Both the motion and the referendum passed, but both results were ignored by the McGill Administration.

CKUT and QPIRG McGill consider the online opt out a threat to their existence. "It is impossible to manage our finances in a responsible fashion if we are not able to predict an important source of revenue," stated Louise Burns, member of CKUT's Board of Directors and Finance Committee. "The online opt outs have also prompted unregulated negative campaigning, including the spread of mis-information by anonymous opponents. This creates a toxic environment without any benefit to public dialogue and deliberation. The ease of online opt -outs means that all student fee-levy groups have to fight for their existence every term during the opt out period at the expense of developing services and programs for students. We believe students are sympathetic to this and this is why the results were overwhelming in our favor. We are very discouraged by the Administrations refusal to acknowledge the results"

Anna Malla, a staff member of QPIRG McGill, stated that "this attempt to undermine independent thinking and free expression, coupled with what appears to be a total disregard for the democratic wishes of McGill students, is disappointing from an institution that is supposedly committed to upholding these very principles."

QPIRG McGill and CKUT are dismayed by the University Administration's complete lack of regard for the student vote, and are consulting members to decide how to move forward.

-30-

Media Contacts:

Kira Page (QPIRG McGill) 438-868-3957

Myriam Zaidi (Radio CKUT) 514-261-1597

Caitlin Manicom (Radio CKUT) 514-448-4041 ext. 8991


NEW HORIZONS FOR SENIORS PROGRAMME:
A SPECIAL 5-WEEK RADIO TRAINING PROGRAMME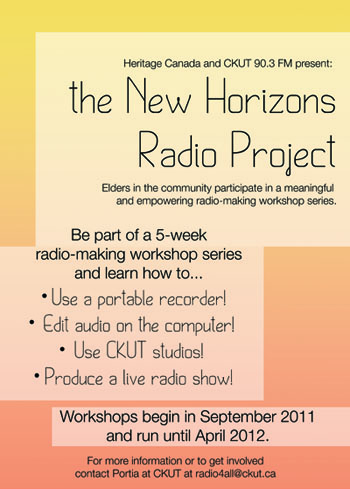 Are you interested in making radio? Do you identify as a senior or elderly individual in Montreal? If so, then we want you!

This is a 5 week programme consisting of a two-hour session every Monday 3-5pm. The program covers the variety of skills you need to know to produce and host your own radio show.

Spots are limited! No cost. If you are identify as a senior and interested in Radio and want to take part in this contact Portia at 514 448 4041 x6788 or by email at radio4all@ckut.ca
EVERY OTHER FRIDAY @ 5pm: THE HARPER BAZAAR, A REVIEW OF CANADA'S CONSERVATIVE GOVERNMENT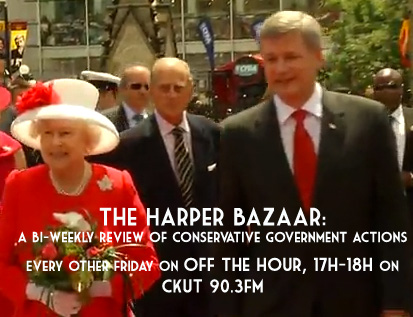 Tune into OFF THE HOUR on Friday January 20th 5-6pm.
The 'Harper Bazaar' is CKUT's Community News Collective bi-weekly exploration of the Conservative government's actions.

ART's BIRTHDAY 2012 CKUT BENEFIT ARTY-PARTY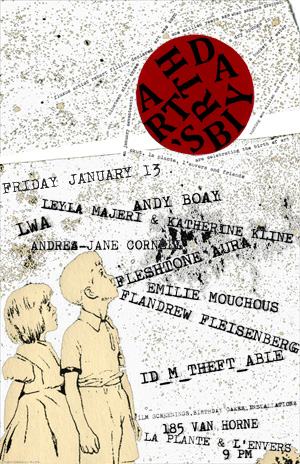 CKUT is Throwing a rager for Art on Friday the 13th of January at La Plante and L'envers
Doors at 9pm tickets at the door - 8-10$ sliding scale
There'll be Birthday Cakes, Sound Installation, Film Projections (see call out below), party hats and......
live music by:
Andy boay
Leyla Majeri and Katherine Kline
LWA
Fleshtone Aura
Id_M_Theft_able
Flandrew Fleisenberg
Emilie Mouchous
andrea-jane cornell



CKUT BIDS FAREWELL to TWO MUSIC PROGRAMMES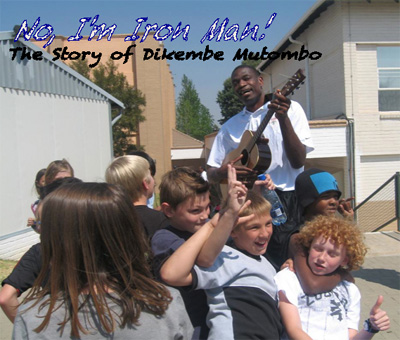 The Epic Journey of No I'm Iron Man the Story of Dikembe Mutombo as hosted
by the venerable Dan Maxham, and radio child Detroit Burns since 2005 had
it's last moment of glory over 5000 Watts of Power this past Thursday
January 4th 2-4am. Never has there been such sacrasm and wit in selections
and banter, they will be gravely missed, and we wish them all the best in
what the future may hold in store for them.
Have a listen to the final chapter HERE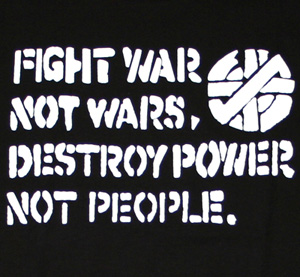 Reality Attack has been bringing a healty dose of anarcho-
feminist punk to the airwaves since 2007, playing anarcho-
punk, d-beat, crust, 77, riot grrl and spoken word, with
a critical analysis and radical message committed to encouraging
dialogue and thought on anti oppression politics and socially
conscious growth in our communities.
Take a Listen to the final episode that aired on January 3rd
HERE

IF YOU GOT EARS JANUARY 11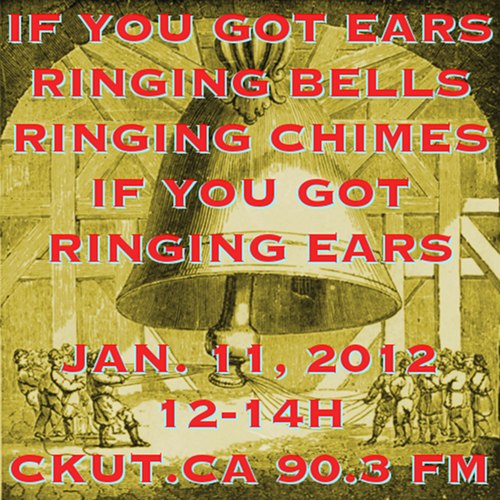 Tune in to resonant ring-ring-ringing on If You Got Ears Wednesday January 11 2012 12:00 - 14:00
Listen to the show HERE

CKUT & 2110 CENTRE FOR GENDER ADVOCACY PRESENT
DRAGON ROOT: Feminist-powered Radio! TUES 8h30-9h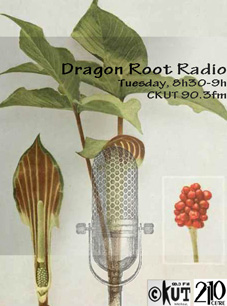 CKUT Radio and the 2110 Centre for Gender Advocacy are once again teaming up to bring important gender issues, the latest news, incredible musical talent and discussions on cultural happenings to the airwaves on a permanent and regular basis.

CKUT welcomes its newest radio program: Dragon Root Radio, feminist-powered radio! Drawing on the deep roots of the Centre, the name Dragon Root references the root itself which is symbolically reflective of the fiery, the delicate, the masculine, the feminine and everyone across the gender spectrum.


CKUT TOOK AUDIENCES INTO THE MAGIC SOUND BOX MID-DECEMBER

LISTEN BACK TO THURSDAY'S PERFORMANCE!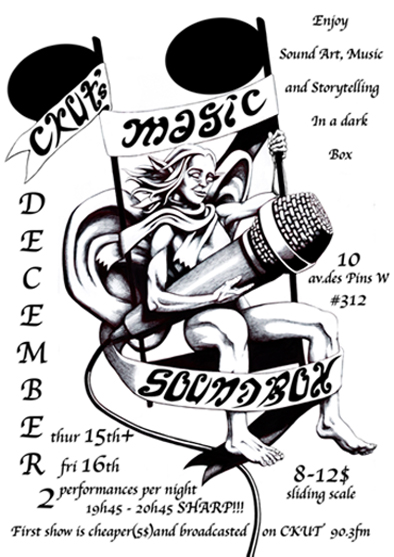 For more info: magicsoundbox.blogspot.com Contact: magicsoundbox@ckut.ca
CKUT HERSAY features the Blue Print Radio Project:
WED, DEC 7 18h30-19h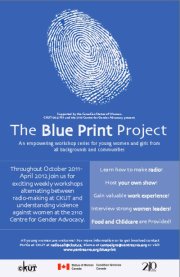 The Blue Print Project seeks to address issues of gender and violence over the airwaves. Throughout the fall this project has met various gender advocates and activists. On Wednesday evening we bring you some of their experiences and initiatives.
Tune-in for Hersay to hear discussions with the director of On Our Own (transition homes and empowerment opportunities for young mothers) a representative of Stella (a sex worker's rights organization) and the executive director of the Elizabeth Frye Societies of Canada (an organization that advocates for women in the justice system).
For more information please email radio4all@ckut.ca or call the News Department at 514 448 4041 X 6788


OFF THE HOUR FRI, DEC 2, 17h-18h:
ROUNDTABLE ON CHAREST'S PLAN NORD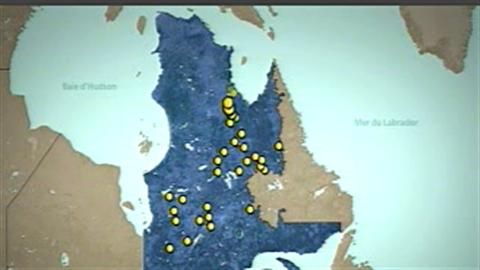 Friday, December 2nd at UQAM, an important panel, conference and discussion on the subject of Charest's controversial Plan Nord to discuss the important question of: for who and why? The Pessamit Innu Council promised in the media to make war. Many other indigenous peoples and ecologists oppose it. But what is the opposition on the ground?
Tune-into Off the Hour this Friday, December 2nd, 5-6pm to hear a Plan Nord discussion.


RADIO MOON: Forward House Radio Program by and dedicated to People living with Mental Illness, November 28, 2-3pm & November 30, 5-6pm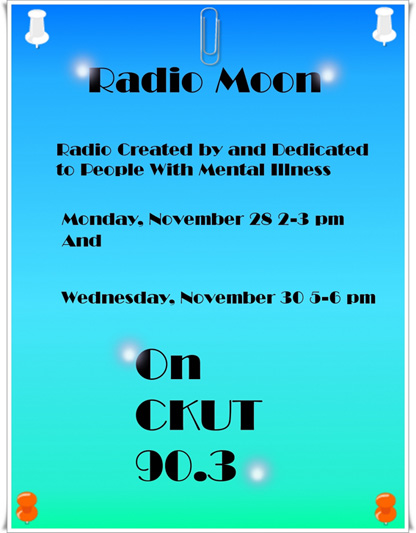 Tune-in Monday, November 28th 2pm to 3pm and Wednesday November 30th 5pm to 6pm


JAZZ EUPHORIUM PREVIEWING JUMMA SULTAN'S ABORIGINAL MUSIC SOCIETY


Tune Wednesday November 16th 8pm to 10 pm to listen to the Father of Origin:
Juma Sultan Aboriginal Music Society Box Set thatwas released on the 15th of
November 2011 on Michael Ehlers' Eremite Label.

The Aboriginal Music Society was established as a radical arts presenting organization
and music ensemble by percussionist/bassist Juma Sultan and Percussionist Ali Abwuli in
Woodstock in 1968. They produced independent music concerts, owned and operated a a
recording studio and collaborated with the artist run New York loft space Studio We on
performances and educational programs. The Father of Origin Box set brings together 2 LPs
of recordings made by the Aboriginal Music Society in the Boston in 1970, a private jam
session by Sultan, Abuwi & saxophonist Frank Lowe at the AMS headquarters in 1971 and
a CD containing the musical fruits of a historic meeting with the Woodstock crew & a
trio of mid westerners saxophonist Julius Hemphill, cellist Abdul Wadud, & drummer
Charles "Bobo" Shaw, all members of the St. Louis music & arts collective, Black
Artists Group.

Listen To The ARCHIVE
CKUT's COMMUNITY NEWS COLLECTIVE INVESTIGATES: OCCUPY MONTREAL. TUNE-IN WED, NOV 16, 5-6PM FOR A FULL HOUR DOCUMENTARY ON THE MOVEMENT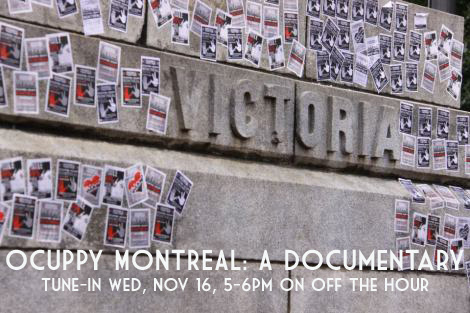 This Wednesday, Off the Hour brings you voices from Place des Peuples, formerly known as Square Victoria, and around North America. The Community News Collective investigates: the roots of the movement, the day-to-day organizing, how the media has presented Occupy, the role of political and corporate elites in Canada, and how social issues and movements link to Occupy.
Follow us on twitter: @CKUTNews


RECLAIM RADIO TAKES OVER THE AIRWAVES TODAY 12 NOON to 7PM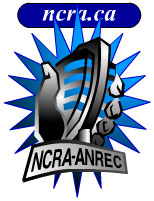 Check out Monday, November 14 archives: 12 noon to 8pm! on CKUT Radio. Reclaim! Radio takes over the airwaves across the country on campus/community radio.
This special day-long broadcast is celebrating the 25th anniversary of the National Campus and Community Radio Association (NCRA), the launch of an NCRA-led campaign to reserve frequencies for campus and community radio stations and the 11th annual Media Democracy Day.
More info: NCRA WEBSITE.